What's in my Photography Bag
I've been a wedding photographer for a little over 6 years now and couldn't love this crazy thing that I get to call a job more! One of the most common questions I get asked by wedding guests or new photographers is what gear do I use. I am not a gear snob at all, but I do think that gear plays a small role in the quality of photos, especially in wedding photography. I started shooting with Canon gear from the very beginning, but plenty of camera brands offer the same quality of professional gear (such as Nikon).
I primarily shoot weddings and engagement sessions, with the occasional corporate event or party thrown in throughout the year. I like to have very minimal gear that can all fit into one bag. I love the setup I have now – here's all the gear that I use and what I use it for:
CAMERAS
I shoot with two Canon bodies, one 5D Mark IV and one Mark III. I also have another Mark III as a backup camera. Having backup equipment is extremely important when shooting something like a wedding, especially if you shoot with one body.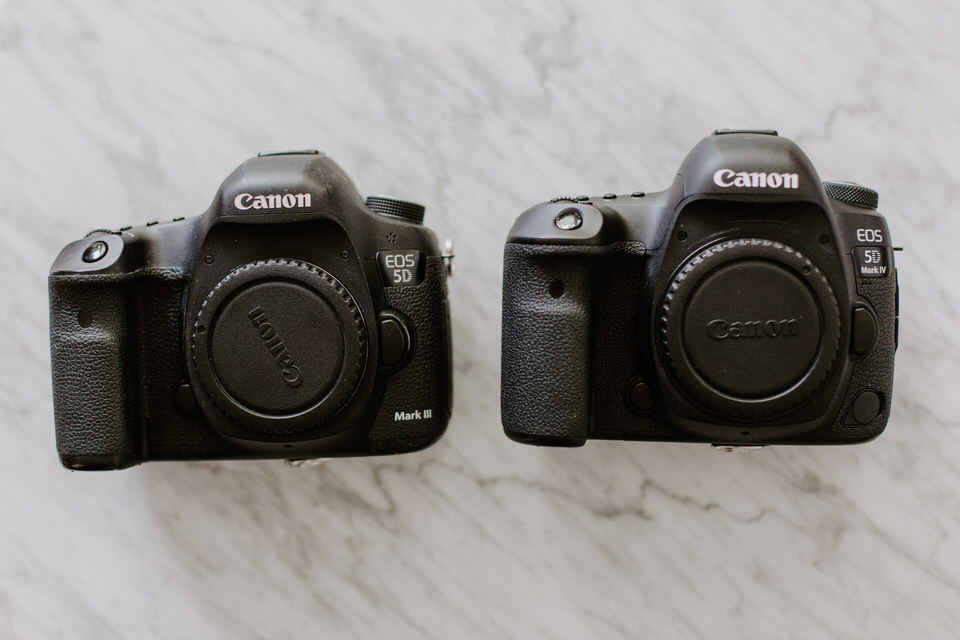 I use the Holdfast Money Maker to carry both bodies during the wedding day.
LENSES
I want to be more adventurous with my lens choices, but I am in love with my 35mm 1.4L and my 85mm 1.8L – they stay on my cameras 90% of the time. I often shoot weddings and never change my lenses. I love this setup and find that it fits with most scenarios on a wedding day.
I also have the 70-200mm 2.8L that I use for ceremonies with a long aisle or with stricter rules for where the photographer can stand.
I have a 50mm 1.8 as a backup lens that rarely leaves my bag. When I first started shooting this was my go-to focal length, but the 35mm stole my heart!
As much as I love my setup now, I do want to add the 24mm 1.4L to my arsenal for receptions in the near future. For now, I just rent this bad boy when necessary.
STRAP
I use my Holdfast Money Maker 100% of the time and love it! Before using this strap, my back would kill me by the end of a wedding night. This strap pretty much fixed that issue – and it doesn't hurt that I look pretty cool wearing it.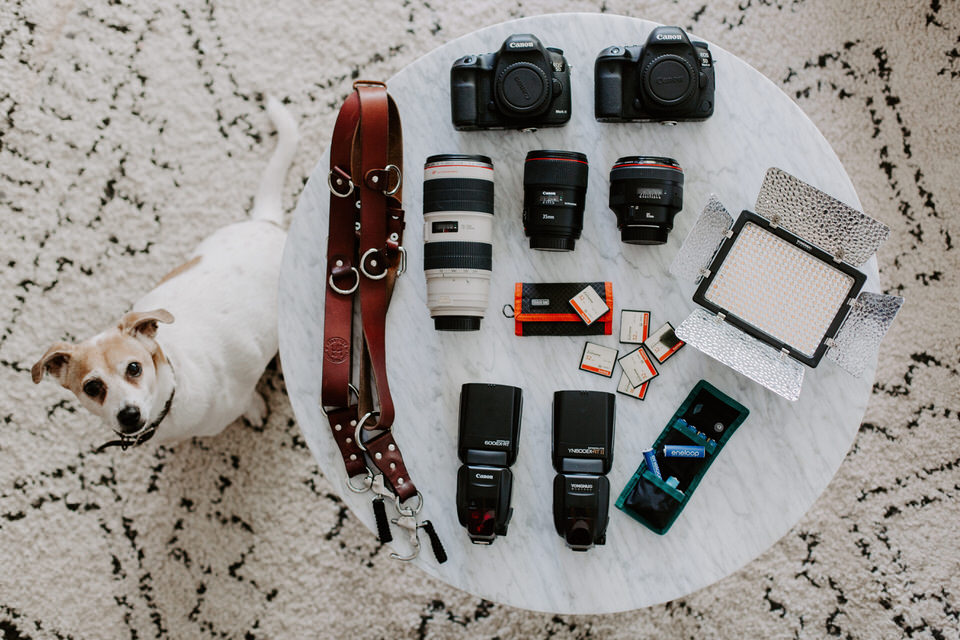 BAGS
On a wedding day, I use my Incase backpack – it holds all of my gear, including my tripod which I strap to the side. I love how big, yet compact this bag is. It is also very affordable compared to all the other camera bags out there. I've had mine for 2 years and it still looks and functions great!
My next bag was bought by my husband when I told him I wanted to be a photographer before I even had my first shoot – when I was still shooting blades of grass and getting excited when I got a "blurry" background. It is the Ona Brooklyn Bag, and it's sentimental to me because he knew I would make something of this photography thing before I even did. I love that this bag is small enough to carry while I am shooting but still holds everything I need. I only use this bag for engagement sessions or shoots when I need the least amount of gear. It holds my two camera bodies and two lenses, along with miscellaneous items such as cards and batteries. This one does come with a little sticker shock as an added bonus.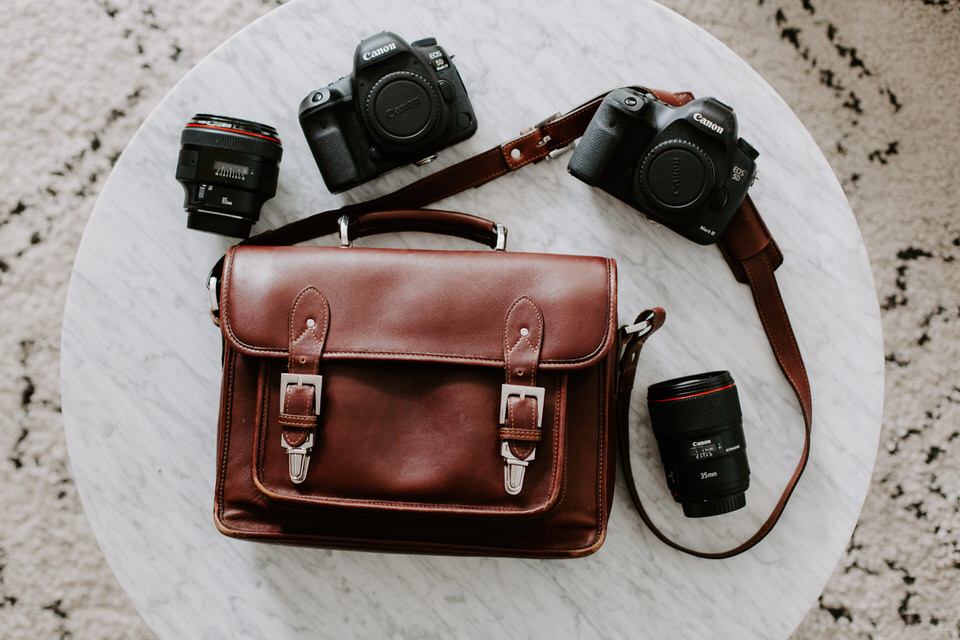 EXTRAS
I have two Flashes, one canon 600ex-rt, and one Yongnuo YN600EX-RT II – they are essentially the exact same flash and work seamlessly together, but the Yonguno is much more affordable. I actually prefer the Yonguno over my Canon for the simple fact that it shows the battery life and the Canon version does not.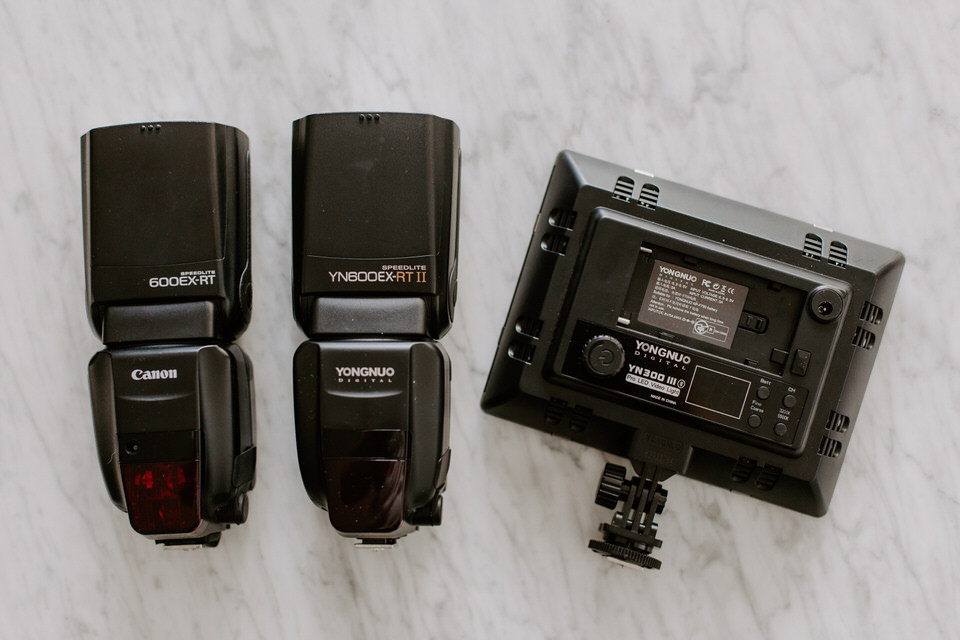 I also have one Yonguno LED 300lll panels that I occasionally use for night portraits.
Pro tip – I bought most of my gear refurbished from Canon or KEH. You can save thousands of dollars buying used, and the gear will still come with a warranty.