Guest Blog Post By Randy Kepple 
The truth is that size matters.
It's no secret that camera manufacturers have dramatically increased file sizes the past few years with sensors offering unparalleled resolution and dynamic range. That size comes at a price. The advantages of those bigger files disappear as they quickly fill up your hard drives and you spend hours babysitting client gallery uploads. From hard drive storage and online galleries to social media sharing, wouldn't it be great if there was a way to reduce file sizes without compromising quality?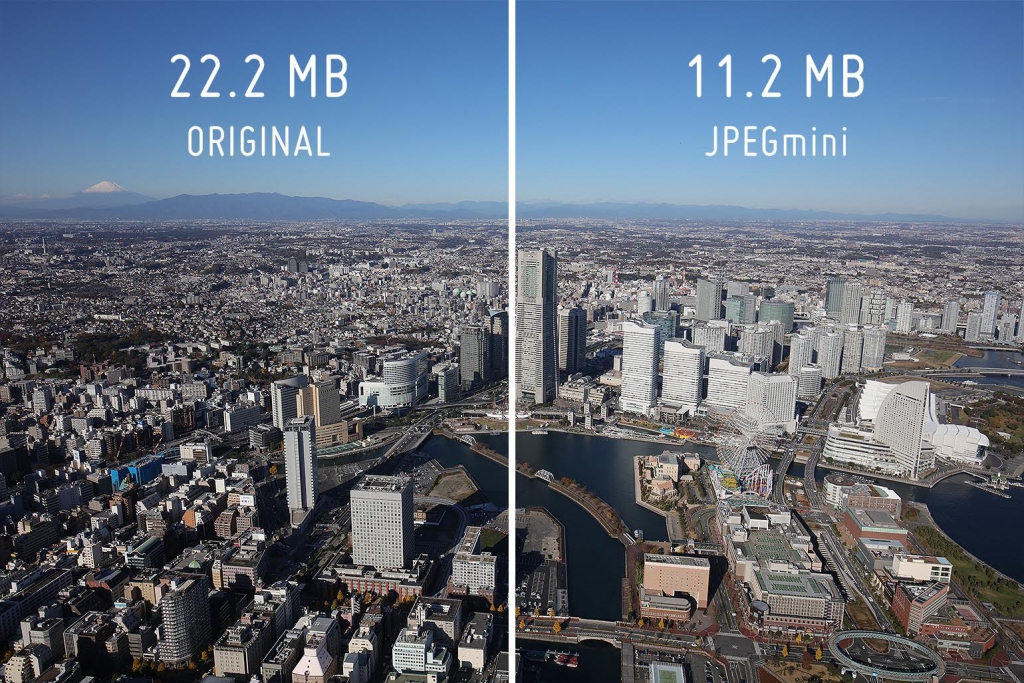 A professional photographer's workflow is built on three basic cornerstones— speed, consistency and quality. A good workflow will help you work quicker, maintain consistency in your work and preserve a high standard of quality.
I'm going to share how you can seamlessly incorporate JPEGmini Pro (including the newly released Photoshop extension) into your existing workflow.  Every time I use this software, I'm blown away. The closest word I've found to describe what it does is automagical (I actually made that up).
What is JPEGmini?
It's an app whose core function is to reduce JPEG file size WITHOUT compromising quality. The image dimensions and quality are maintained with a dramatic reduction in file size. They have technical explanations on how they can do this on their blog (for the pixel peepers). It's easily one of the best investments you can make in your business.
I don't have time to learn a new piece of software!
Who does? JPEGmini is a no-brainer (as in even a zombie with no brains can use it). Honestly, the last thing any of us want these days is a new piece of software that requires a user group, online support forum, or hours of training videos to understand how to use. Using JPEGmini is easier than sending an email.
It's easy for photographers to become overwhelmed with the tech side of things. JPEGmini is drag-and-drop simplicity. And it fits into your workflow, no matter how funky it is. From Photoshop to Lightroom to a standalone desktop app, it's there when you need it.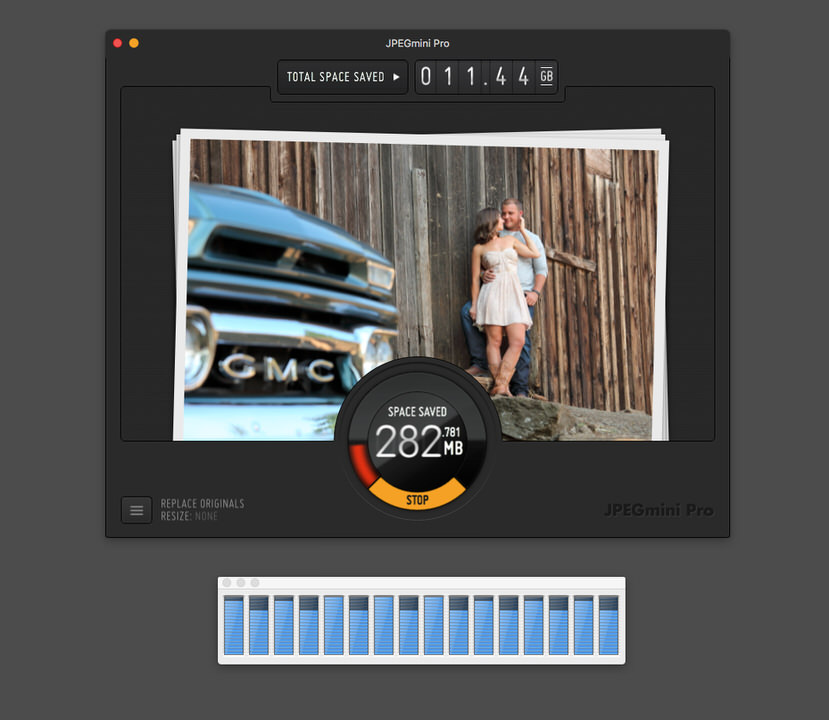 Tested in the real world
The week I was writing this article, I had a situation happen that underlined how invaluable JPEGmini Pro is in my workflow. I had two clients reach out to me (in the same week) because they lost their files. One a wedding and the other a commercial client.  Of course, both clients needed the high-resolution files uploaded ASAP!
For the wedding, there were 750+ full-resolution files from my Canon 5D-III (including the engagement session). The original JPEG folder was 8.86 GB in size and after running them through JPEGmini Pro, the folder was 2.47 GB! My commercial shoot was 2GB in size and the final folder was 500MB! Also, it's worth noting that it's optimized to utilize all your computer's processors. In my case, that's 8 processors (dual Quad-Core) chewing through the processing, meaning it's super fast.
What's astonishing about this are a number of things. First of all, no compromise in quality. I don't care about saving space if it means compromising quality. Secondly, my upload times to my online gallery were substantially reduced. Given that my PixieSet plan is limited to 10 GB, the original folder would have instantly put me at my maximum limit. JPEGmini made it possible to upload both galleries, keep the existing client galleries on my site, and saved me hours of upload time.
I walked away a hero with both clients, by being able to respond quickly and upload the files. They appreciated the smaller download and I earned their business by delivering unexpected customer service, thanks in large part to JPEGmini.
The savings are significant
I'm no mathematician, but it doesn't take much effort to quickly see how much time and space JPEGmini is saving. Taking an 11 MB image file down to 2 MB with no quality loss? Yeah, that's easy to calculate the savings over the span of a hard drive and a couple of years of shooting professionally. From upload times to Dropbox or online client galleries to hard drive space.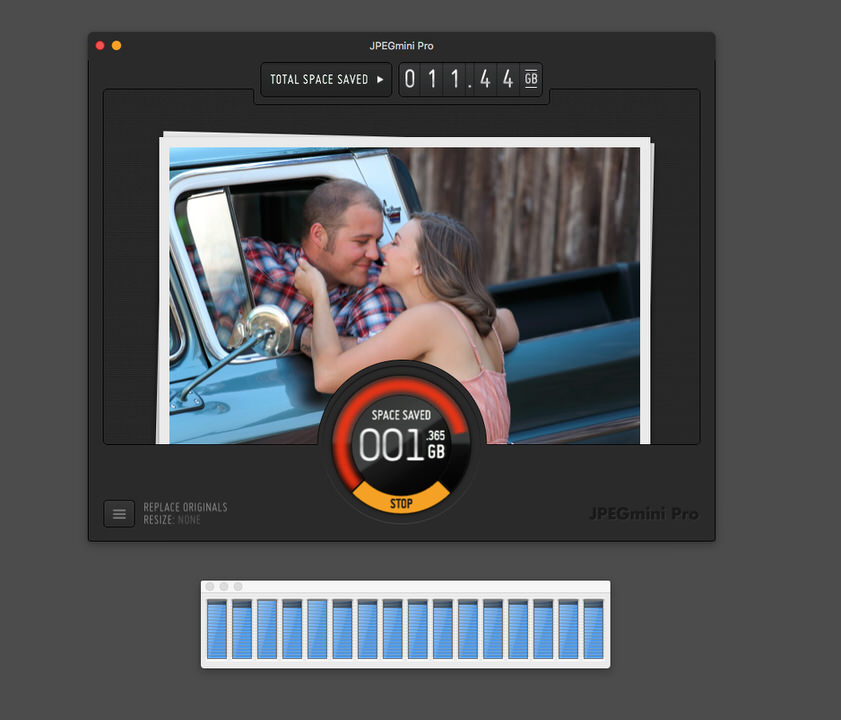 Taking a 5.68 GB folder of 600+ images and dropping that down to 1.8 GB? That's a savings of 4 GB or a factor of (3.1 X) from a single event. Multiply that over the course of a year and the savings are significant! We're talking gigabytes of storage without compromising quality.
Let's talk about workflow
The biggest pain point with workflow is anything requiring you to change what works. Most of us are afraid of change. We put off software updates because it changes something we're used to, or worse, breaks something that was working. And that means lost productivity and time. In the middle of a busy wedding season, the last thing you want to do is throw change into your workflow. This is the beauty of JPEGmini.
For existing folders of images that I've archived, I use the standalone desktop version. For many of my portrait and commercial shoots, I process RAW files through the Canon Digital Photo Professional software. The files are beautiful and huge. Using JPEGmini is as easy as dragging and dropping the files onto the app. 
This is the geeky part. The app displays a speedometer type interface where the images it's working on zip past while a gauge shows you in real time how much space you're saving. At the end, it shows you the overall savings for the job and the total amount of space you've saved over time using the app. That's it!
The Photoshop CC plugin is just as easy to use. Personally, I use Photoshop for social media (Blog, Instagram and Facebook) and my website portfolio. Open up your image(s) and do your enhancements, then size and instead of choosing the legacy "Save for Web" or the new "Export", you simply click the JPEGmini button and it prompts you for a save location and then shows you the file size savings for that exported image.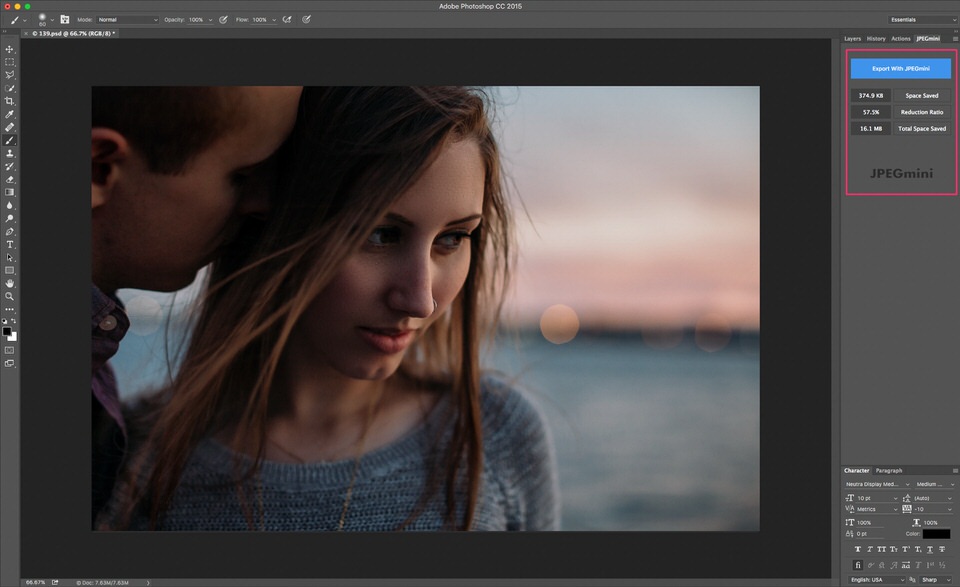 If you're a Lightroom user, it's even easier. Install the plugin and when you're ready to export, add JPEGmini in your export options (it remains in place for future exports until you remove it). The images are optimized automagically as it exports.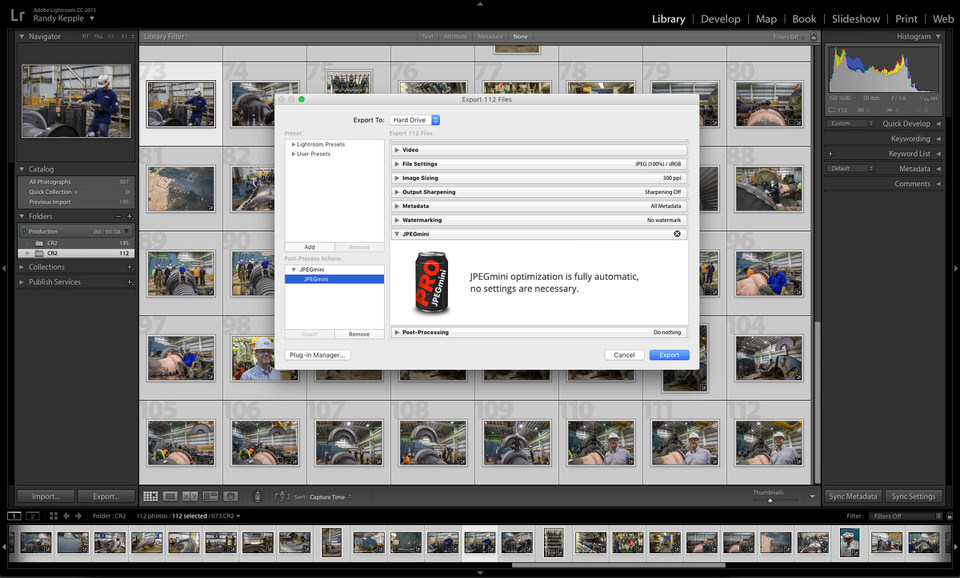 The benefits of size
Speed. I don't care how fast your internet is, the one thing we all need to allocate more wisely is time. If you can dramatically cut your client gallery upload times by 2/3 for every event you shoot, how much is that worth? And your clients will thank you as well. Faster downloading of high resolution file sets. Smaller, faster and less expensive USB thumb drives. If you backup your archive online, you're reducing the amount of online storage you use.
SEO. More consumers are visiting websites via mobile devices. Google has stated that they throw more bias towards websites that are optimized for mobile viewing with quick page load times. Yet websites are requiring larger and larger photos. How do you balance that without sacrificing quality or straining download times? Yep, JPEGmini. Optimized for online blogs, social media and websites without compromising on quality.
Storage. As affordable as hard drives are these days, it's still expensive to store and archive files from today's cameras.  We're finding the need for larger capacity (more expensive) hard drives than ever before. Backup drives and raid systems are expensive too, adding to the cost and complexity of your workflow. Being able to significantly reduce storage demands is money in your pocket.
The bottom line is your image
Let's face it, we're all pixel peepers.  It's all about the image.  Here's a way to save time, money and continue to deliver the highest quality images to your clients which is the cornerstone of a professional photographer. JPEGmini Pro is an essential part of any photography workflow that works how you work. And it's affordable. For less than the cost of one portrait session, you can invest in JPEGmini Pro. I use it daily in my business and it's an integral part of my success.