Want to Rock Your Next Wedding Venue "Open House"? Of Course You Do! Here's How …
Of the many questions we sought answers to when deciding to dive head first into the deep waters of the wedding photography industry years ago, one that seemed to boggle our minds was, "How in the heck do we get in at an open house?" We're talking about that rad wedding venue that you want to photograph weddings at several times a year. Maybe you photographed a wedding there before … maybe not. We found that the answer to our questions was actually way simpler than we could have imagined. We just asked. Seriously. That's it.
Inevitably, however, that led to the next question: "Now that we got in at an 'open house' … How in the heck do we pull this off?" Well, here are 3 quick and simple strategies that you can implement right now to pull off a successful wedding venue open house.
1. Have a Professional Looking Setup that Reflects Your Brand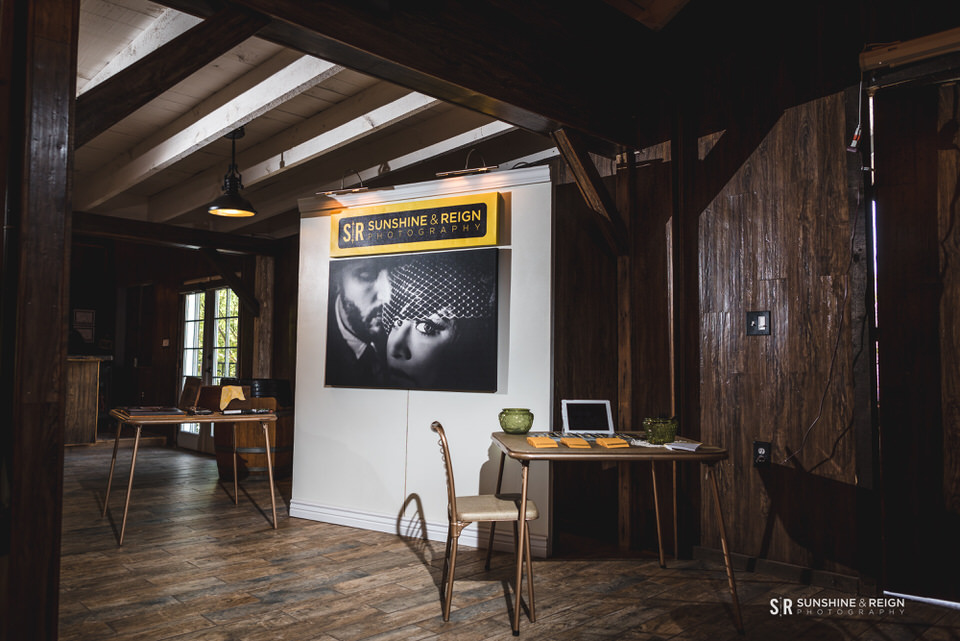 Ideally, it's best to avoid the table and black linen that you have undoubtedly seen at bridal shows and open houses. Your set up absolutely has to fit your branding and have that touch of you that says to a potential client, "We cared about our set up because we're good at what we do." We use a stripped down version of the booth we used to take to bridal shows: two walls (3′ x 7′), painted white with two "gallery-style" lights mounted on top and our business name and a photograph printed on a canvas (secured with VELCRO). Our setup takes 30 minutes to unload and put together. We add a few of our vintage card tables and chairs, and we're done. It's open enough to be inviting … and it's also simple, clean, and reflective of our brand.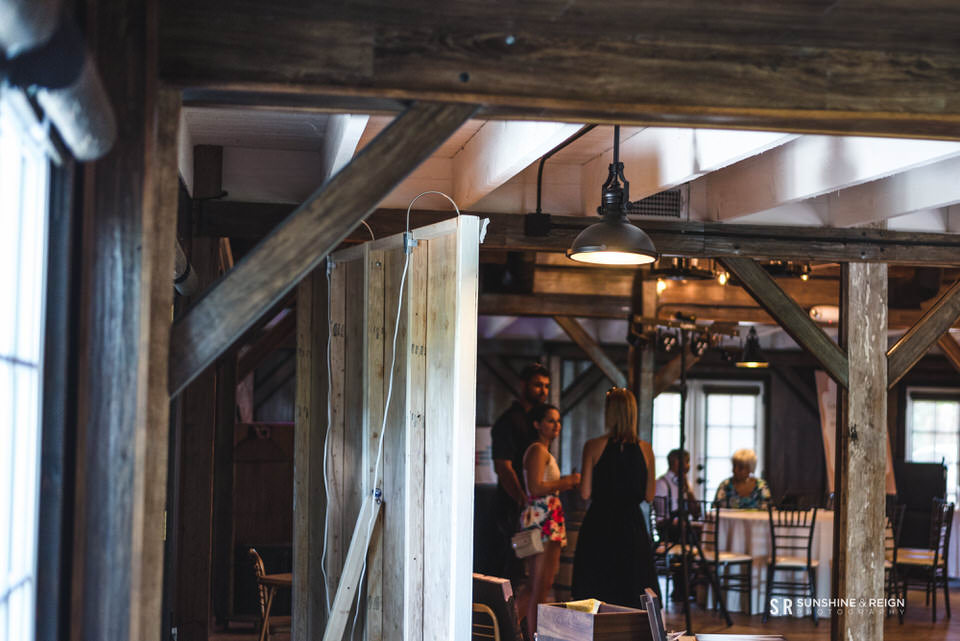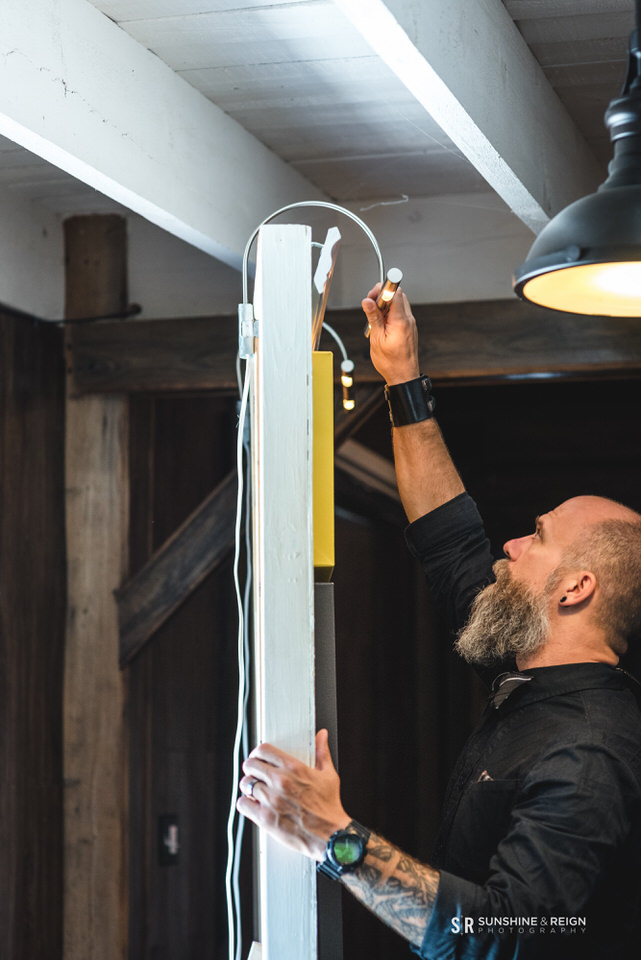 2. Display Your Photographs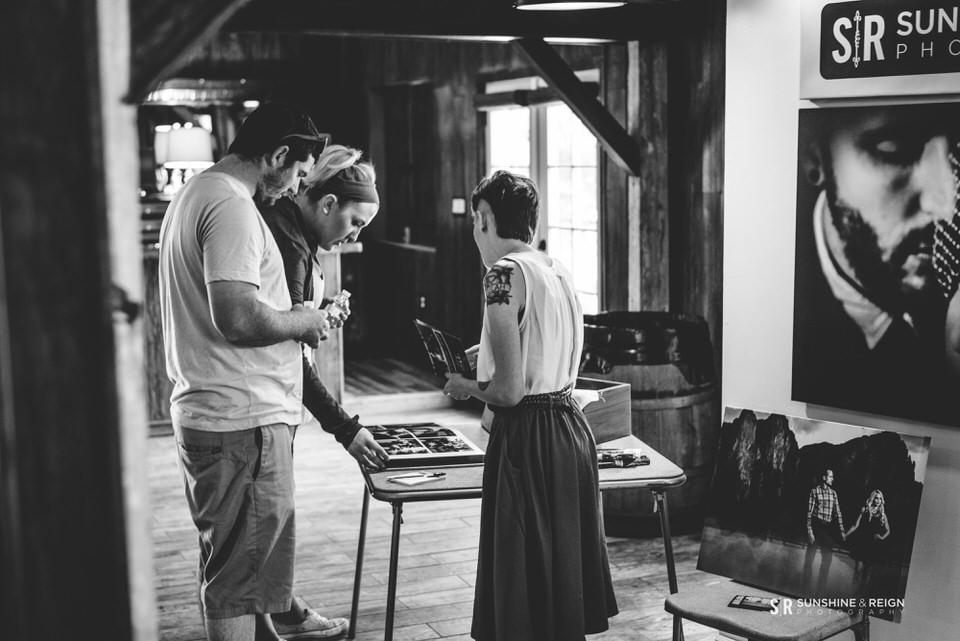 Displaying your photographs is key. Too obvious? Well, we can tell you from experience it's not a slideshow of images that books clients. It's you and your photographs. You're going to need to print some photographs: a large canvas is a great way to grab some attention … but also throw in a copy of an album from an actual wedding and some samples of other products that you offer. We like to bring photographs in a portrait box, for example, which allows people to have another means of thumbing through some actual prints.
3. Take Your Time … And Make a Personal Connection
If you've ever done a bridal show (especially a large one), you know how hectic it can get. It can also be pretty tough to make a personal connection when people are rushing through booth after booth just to find the best deal or win that free engagement session. A wedding venue open house is a completely different (and inviting) event. On average, there might be 100 people passing through (and not all of those people will be potential brides and grooms since family and friends will be tagging along). You'll have the time to chat extensively and make a personal connection. Just make sure you are talking more about them and less about you. That's right! Talk about them. Ask questions about their interests, their love, when they got engaged, etc. Be a good human. Take an interest in people taking time out of their lives to talk to you, and you'll find that a personal connection and bookings come much easier.
Conclusion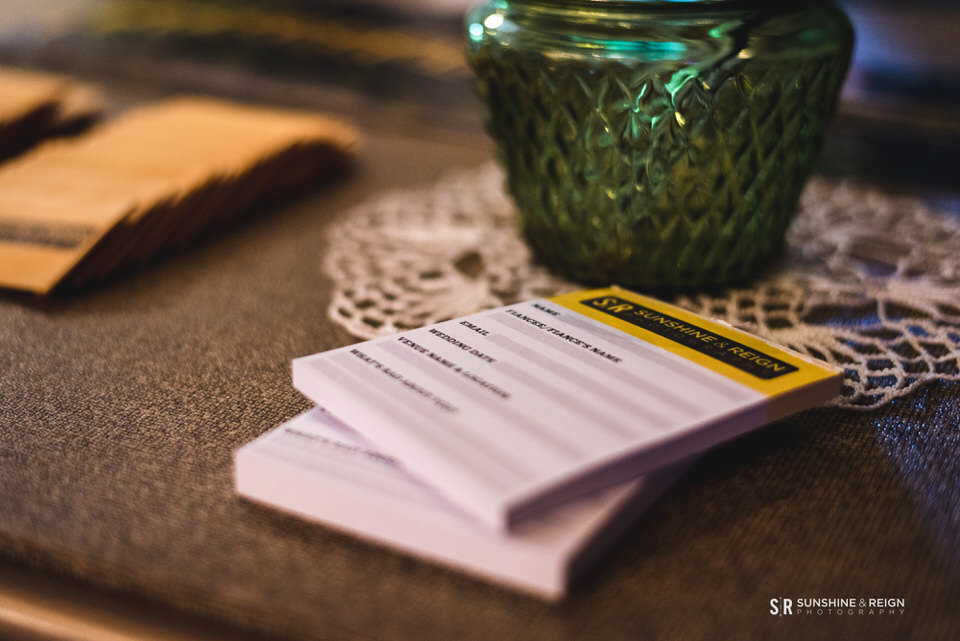 Finally, we need to emphasize the importance of collecting information from potential clients. An email is great (because you'll need that eventually), but we're big fans of the phone. Get a phone number! And set up a day and time during the next week to chat further and square away all those details needed to secure the booking.
What are some of your best tips? Have you ever rocked an open house? Have you struggled to get in at a wedding venue open house? We'd love for you to join the conversation below by leaving a comment.
---
Amii & Andy are a wife and husband team of rad wedding and portrait photographers (Sunshine & Reign Photography) who absolutely love life and are generally just stoked! Yeah! When they aren't photographing or writing and teaching about photography, you'll find them off on a seriously legit adventure with their little ones, lifting weights in their garage, refining their archery skills, or surfing every chance they get. And on the rare chance they escape off on a "date night"? Yep! They'll find a wedding to crash (true fact).