3 Tips for a Smooth Day of Corporate Headshots
During my time as a headshot photographer, I have gathered intel about the standard operating procedure for on-location corporate headshots for groups. This has helped me win jobs by showing my process and differentiating myself from competitors.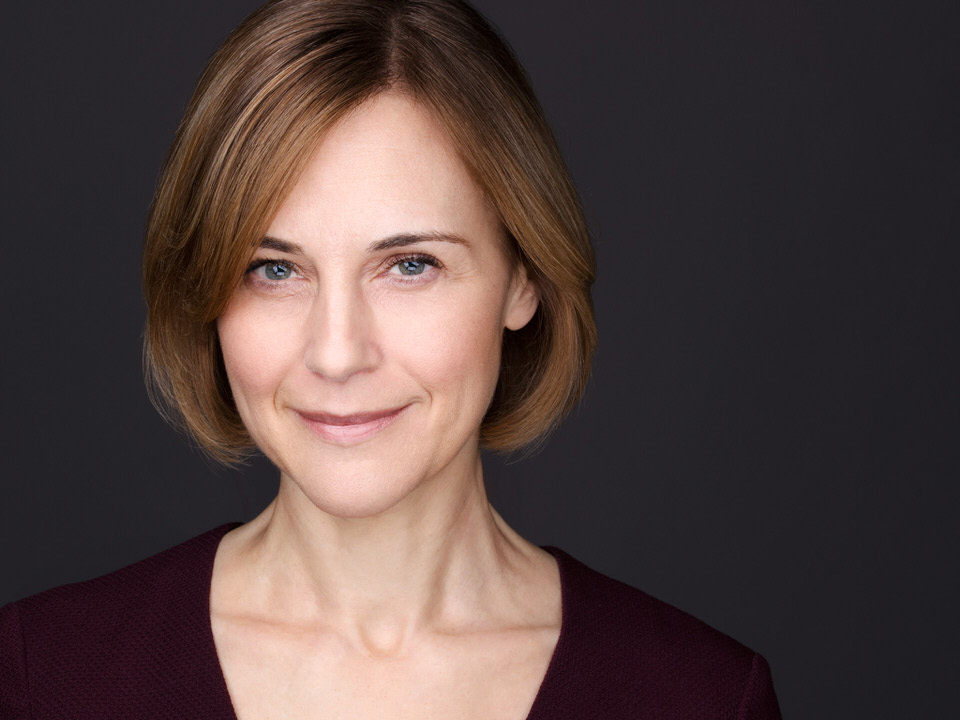 There are three tips that you can probably implement with your online scheduler, but I use Acuity Scheduling. It is free with Squarespace and does everything I need to book individual and corporate clients.
Create an Exclusive Booking Page
From what I hear, the typical photographer arrives, sets up their equipment and tells the point of contact or an administrative person that he or she is ready. For the rest of the day, that employee runs around in a manic attempt to find someone who is not right in the middle of something very important. Eventually, everyone gets their headshots, but there is a better way.
I create an exclusive booking page on my website for each corporate client. I send the link to this non-indexed page to my point of contact for her to distribute. The page has their logo, explains that this company is partnering with High-End Headshots, and tells them which day the headshots are happening.
This page also has an Acuity link with a calendar specifically for the company. It shows my availability only on the day(s) I am going to be at their office.
Since my client is the company, these appointments cost the employees nothing. This means they can book a time slot with just their names and email addresses. Each person will get an email confirmation, calendar invitation, and a reminder shortly before the session to help him or her get there on time.
With this system in place, the administrative person will only have to show you where to set up and track down anyone who misses his or her appointment. I find that people almost always show up on time, or 1-2 minutes late. Since your headshot subjects are not being pulled away from their work unexpectedly, they will likely be in a better mood. That is likely to result in better pictures and a better day for you.
Include Preparation Guidelines
If they simply remember they have a headshot, they are likely to arrive more put together, but you are the photographer and can help guide them to prepare in a way that will produce the best headshots. In addition to the calendar invitation in the appointment confirmation email, include a link to preparation guidelines.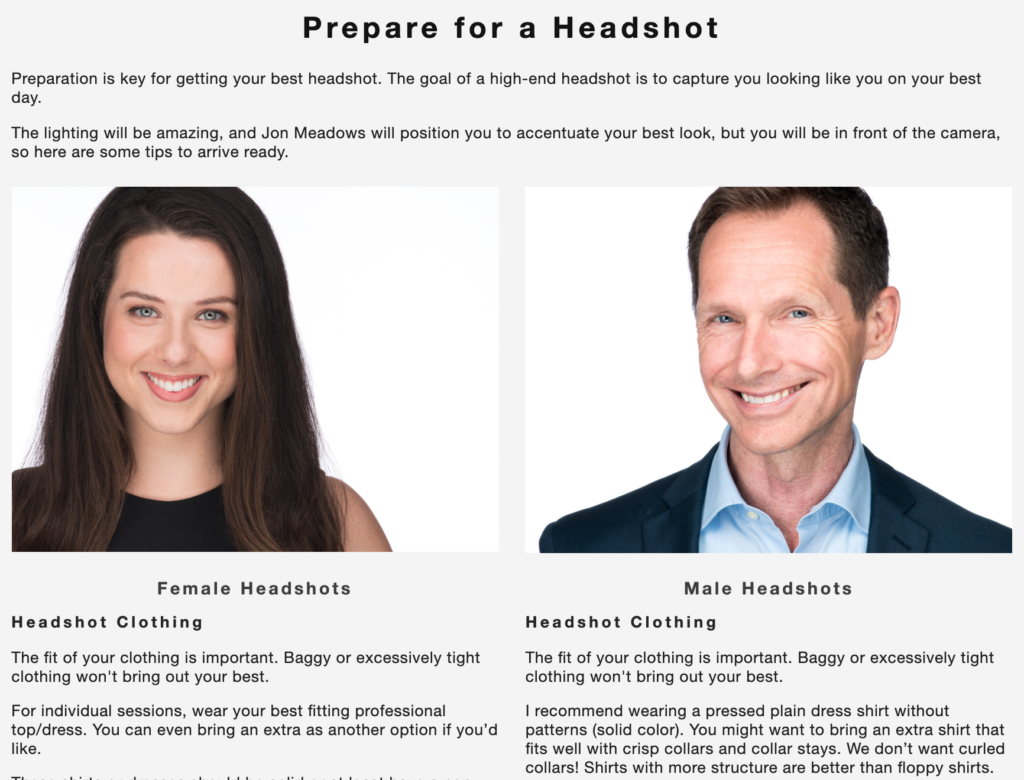 My standard guidelines for individual sessions cover clothing, makeup, hair, glasses, jewelry, and even shoes. Some companies will want a more casual look than your typical preparation guidelines for professional headshots, so make sure that your preparation guidelines are customized to fit the brand each client wants.
Make sure your point of contact has these guidelines as well so they can send a separate email to everyone who needs a headshot. This will improve your deliverables to the client, which is good for them and your business.
Include Gaps in the Schedule, Create More Appointments than People
When determining my time slots for the booking calendar on the exclusive booking page, I leave gaps in my schedule for several reasons.
I need to eat lunch, and I often have to walk there, often wait in line, eat, and walk back. So I leave an hour between the expected end of my last session before lunch and the start of my next session. If I have 10-minute sessions, my last one will be at 11:50 a.m., and my next one will be at 1:00 p.m.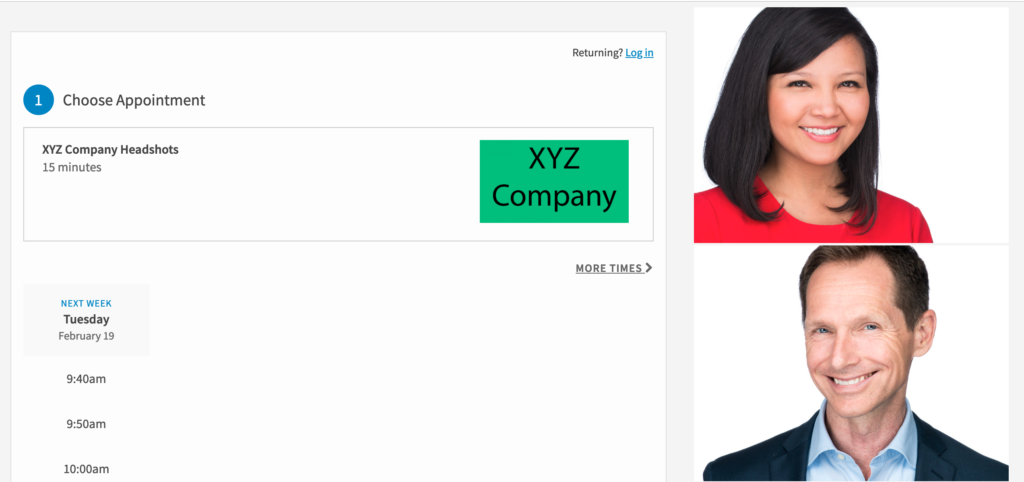 I also leave time slots open, usually one gap every hour of shooting. This allows me to spend a little more time with someone if they would really benefit from the extra coaching. Then I can flex with everyone else. Maybe I will ask the next person if they can come back in the gap, or maybe I will just ask people to wait for a few minutes until I reach the gap.
Leaving gaps in the schedule also allows me to reschedule people who double booked or who had an important meeting come up. I can just put them into a bathroom break slot, or shorten my lunch if I have to.
I also create more appointments than I have subjects. If I will work with 10 people on their headshots that day, I'll create 13 time slots. If I have 30, I'll create 35 time slots. It's important to include these extra appointment times so even the last people booking have options.
If the company decides to add more people on the day, I can schedule them in the slots that were available for booking, or I can fit them in the gaps where I had planned to have catch-up time or a bathroom break. And I charge them the per person rate for those additional people. Having extra availabilities and gaps in your schedule will allow you to make more money than you planned, with ease.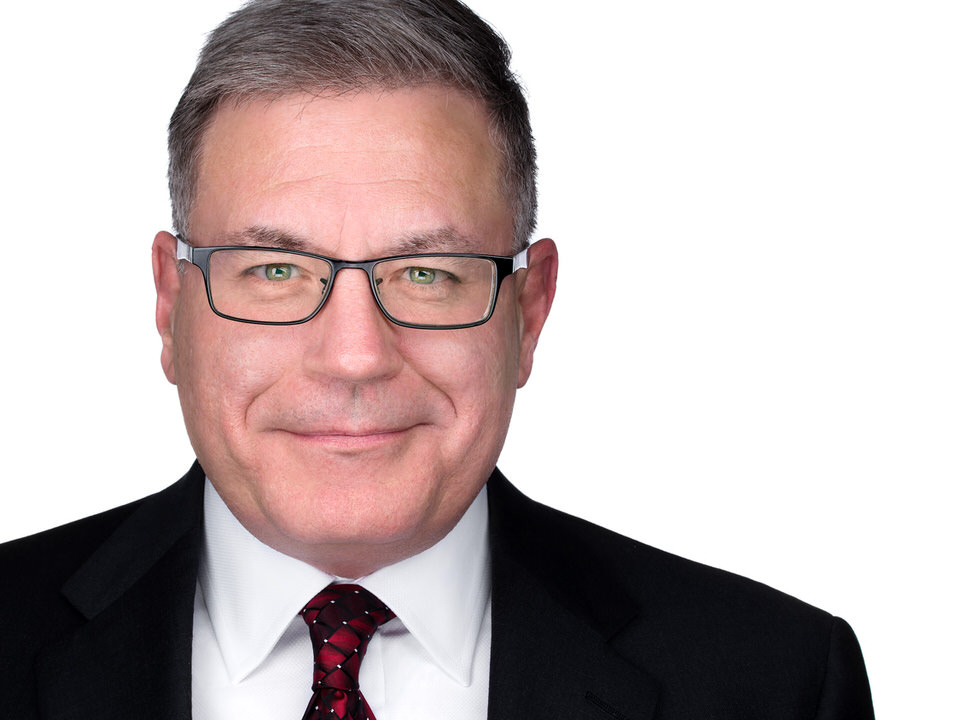 Have a Smooth Day!
I hope these tips help you provide a better headshot experience for your group headshots. Feel free to reach out with any questions through my website. Now go have a smoother corporate headshot day!
---
Jon Meadows is a headshot photographer and facial expression coach at High-End Headshots in Washington, D.C.