7 Steps To Maximize Your Word Of Mouth Marketing
A 2012 report by Nielsen found the 92% of people trust recommendations from friends and family over any other type of advertising. Similarly, 72% of consumers identified word of mouth as a key influencer in their purchasing decision (source: Adweek).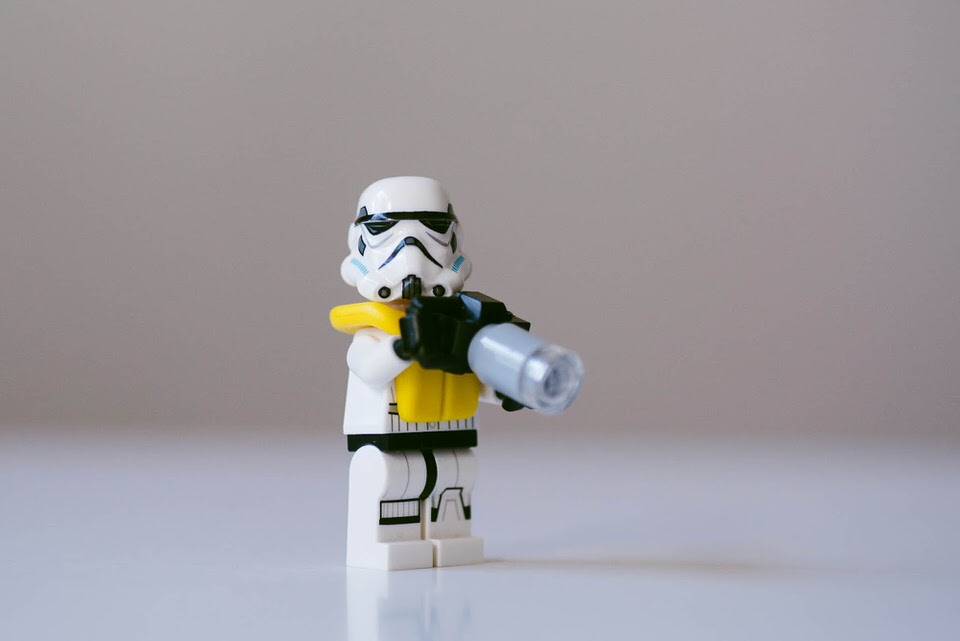 Outside of direct recommendations from friends and family, Brightlocal found that nearly 9 in 10 people trusted online reviews written by other consumers.
But here's the thing. Given how important we know customer reviews are, only 33% of businesses are actively seeking out and collecting reviews.
I know getting customer testimonials can be difficult. You do the hard work, you give your clients an epic experience and even when clients say that they will write one for you it never happens.
That's all going to change right now because here are 7 steps that will help you maximize your word of mouth marketing.
Even if you are actively seeking out customer reviews, I think you'll find this word of mouth marketing strategy insightful.
1. Grab a video testimonial on-the-spot
One of the best opportunities to ask for a review is when you deliver your clients with their photos.
There's no need to record it with fancy equipment and lights. Just use your smartphone!
After their initial excitement of going through their photos, casually ask them to say a few words about how they feel. Given how elated they are feeling, most couples will happily oblige.
Video testimonials are awesome for a number of reasons. They trigger emotions. Video has a higher retention rate than text. People prefer video over reading text. Consumers trust user reviews (text can be faked but a customer talking in a video – that's powerful). And last of all, video testimonials are social proof (remember nearly 9 in 10 people trust online reviews).
The more organic the video looks (i.e., less polished), the more authentic the video will appear. If you're meeting in a loud place (e.g., cafe), consider adding closed captions to the video.
Video reviews can be shared to all your social media accounts as normal content posts. For example, on Google My Business, you can post short videos via the What's New feature. Similarly, Instagram and Facebook are other social media platforms where you can maximise this marketing strategy.
You may also add video testimonials to your YouTube Channel and then embed these videos on your website.
Try JPEGmini Pro For Free Now!
2. Condition your clients that you will ask them to write you a review
I have rarely come across a client who has not been willing to leave a positive review. They understand that online reviews can help your business and if they love their wedding photos (which I'm sure they will), they're in your corner. After all, the bulk of friends and family referrals come from your past customers!
When you deliver their wedding photos, let them know that you'll be asking them to leave you a review. This will mentally prepare them that leaving you a review is something they should do.
For example, you can say, "Online reviews really help couples like you choose the right wedding photographer. I'd love for you to write a few lines to describe your experience. Would this be ok?"
I guarantee that they will say 'YES'.
Similarly, when you start posting positive customer reviews on your social channels, many couples will understand this as something they should do as well.
3. Build in a feedback loop into your process
Even if you do the above, people do not always follow through.
One of the biggest reasons why your clients do not leave you a review is because writing a review takes significant effort on their part. First, they need to make time to do it. Then they need to think about what to say. Despite promising to write you a review, days turn into weeks and it never gets done.
This is why I like to send my clients a feedback questionnaire. Answering a set of questions tends to be easier than coming up with something from scratch. Google Forms is a free and easy way to do this. Otherwise, traditional email also works very well. If you're fancy, you can even create your own form on your website and send your clients there to fill it out.
Here are a few questions you may wish to tailor for your own feedback form:
"How many other photographers did you consider before choosing me/us?"
"What did you like about us?"
"What are your favourite photos so far?"
"In the lead up to the wedding day, could we have done anything better?"
"On the wedding day, could we have done anything better to improve your experience?"
"Do you have any advice for couples looking for their wedding photographer?"
So what do you do when your client writes back with a bunch of nice words?
4. Work in keywords into the 'review'
Up until now, you still don't have a public testimonial. Even if you have followed the video tactic and have been successful in getting a client to talk about your brand, you still need some formal reviews for your word of mouth marketing strategy.
In this step, you are going to format your client's feedback into a draft 'review'. Using their own words, the goal is to create a keyword optimised testimonial.
When couples are looking for a wedding photographer, they tend to search for the same traits. For example, a wedding photographer who makes them feel comfortable, a wedding photographer who was quick to respond, a wedding portfolio that had a lot of natural and candid moments – the highlight words are all keywords that marrying couples want to see.
Secondly (and this is more of a local SEO play), relevant keywords in customer reviews add visibility for Google My Business listings. Refer to the below screenshot.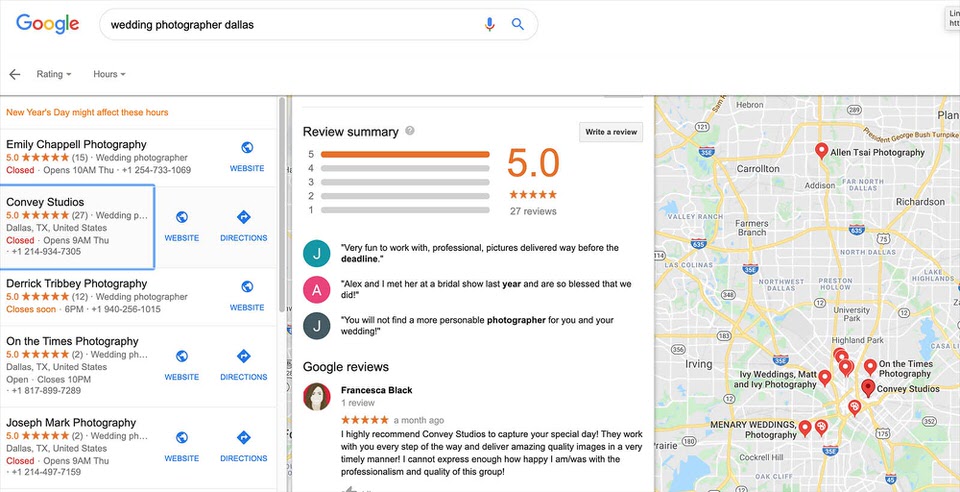 As you can see, when I search for 'wedding photographer Dallas' and click on the Google Map results, certain words are in bold within individual GMB listings. For example, when a user clicks on Convey Studios, the words 'deadline', 'year' and 'photographer' are shown in bold. Google has understood these words as being relevant to wedding photography related searches. Therefore, you should work in as many into your reviews as these can improve the chance of a bride or groom contacting you.
From a local SEO perspective, you should mention the main city and county that you are targeting (e.g., Dallas, Portland, Florida).
There's another reason why you want to be in charge of drafting the reviews. Longer reviews provide far more value to an audience and reviews with 200 words tend to be favoured by Google. This is because a higher word count typically means that a user can get more information to help them solve their query (and this is one of Google's objectives).
So go back to the feedback form that your client has filled in and see how you can work in relevant keywords that showcase your unique selling point.
5. Send the 'review' to your client for approval and ask them to post it to your Facebook Page, Yelp, Google My Business and any other platforms that allow user-generated content
This is where all your hard work pays off.
Once you have collated your client's own words into a keyword optimised testimonial, send it to them for approval. I suggest saying something along the lines of:
"Thank you for taking the time to provide me with your feedback. I really enjoyed reading it as it helps me be an even better wedding photographer for the next couple. Based on your feedback, I have put together a little testimonial on your behalf. I've attached it below for your review. As you know, word of mouth recommendations are really impactful and it would really mean a lot to me if you could post it from your personal account."
Be sure to provide links to where they can leave your business a review so that they do not have to manually hunt them down. For example, you can link them to your Google My Business, Yelp, Facebook or any other review platform website. The more websites the better!
Not all people will follow through but most will. This is because you have done the hard work for them (i.e., they do not need to make time out of their busy schedules to sit down and think of what to write for you).
And maybe (this is entirely optional) when your client does copy and paste the testimonial that you have written onto multiple review portals, you can send them something as a thank you gift. It could be some fine art prints, a bottle of wine, Starbucks gift card, or a handwritten note to show your gratitude. The little things go a long way, especially in offline referrals.
PS – when a client leaves a review, please take the time to respond to it publicly. This is because replying to customer testimonials results in better ratings (source: Harvard Business Review). When prospective customers see that you have responded to past customer reviews they will perceive you as a business that is attentive.
6. Share Reviews Via Social Media
To take your word of mouth marketing strategy one step further, share your testimonials across all your social media channels. For example, when your client leaves you a review on Facebook, share the post on your timeline (and don't forget to respond to the review).
You can also convert the review into a graphic using Canva. You can create 1080×1920 images specific for Facebook Stories and Instagram Stories. Similarly, you can use standard 1:1 or 3:2 images for Twitter, Instagram and Facebook.
I've seen some clever wedding photographers create Instagram Story Highlights just for customer reviews. I've done so for myself in the past and the views speak for themselves. This goes to show that the modern consumer will do some due diligence before reaching out to a brand.
7. Leverage Word Of Mouth Advertising
Up until now, everything has been via organic channels. That is, you have acquired user-generated content in the form of a positive brand experience review and have had it published to one or more review platforms.
We are now going to enter the world of paid placements, sponsored posts and word of mouth advertising.
Did you know that 37% of consumers find purchase inspiration through social media networks (source: PwC)? And 50% of shoppers said seeing user-generated content would increase their chances of buying a product or service (source: Curalate).
If there was ever a reason to invest in social media advertising, these two data points should give you the validation to test it for yourself.
Facebook Engagement News Feed ads (mobile/desktop) can be effective for strengthening your brand's social proof. The premise behind Engagement ads is that you can reach the social network from anyone who chooses to interact with your ad. For example, if a Facebook user reacts to your post, this interaction has the potential to show up on the user's friend's news feed. As more users interact with your ad, the more people who can reach.
Whether it is a Canva visual or a video testimonial, you can use this user-generated-content in your ad to promote your brand.
But before you go spending money on Facebook ads, please ensure that you have the Facebook pixel installed correctly on your website. Advertising can get very expensive when you don't know what you're trying to achieve and having analytical data will help you make the right decisions.
---
About The Author
Daniel is an SEO specialist who photographs LEGO® minifigs (there's a back story to this which you can read on Peta Pixel). Once a wedding photographer for over 9 years, he now nerds out on analyzing SERPs (paid and organic). If you want to up your SEO game, check out his 100% Actionable SEO Guide For Wedding Photographers. You may connect with Daniel via LinkedIn, Twitter, email, or his Facebook Page.