Getting Up Front and Personal
One of the most used phrases in photography and on a lot of wedding photography workshops is the Robert Capa phrase, "If your photographs aren't good enough, you're not close enough." Of course, he is correct, and this is as relevant today as it was back then and no more so than in wedding photography.
A wedding is hopefully a once in a lifetime experience for the bride and groom. A great deal of preparation and organizing goes into this one special day. The only physical memories of this day are provided by the photographer and videographer. As a wedding photographer, I feel exceptionally honored that I have been asked to photograph their day. Clients have paid me to be there, and as the official wedding photographer, I have certain privileges that allow me to be in places that others can not access. For example, I am with the bride whilst she is getting ready, I normally have a prime position during the ceremony and I can wander freely during the speeches and evening reception. So the last thing I want to do is take photographs that the guests can take. I want to take images that reflect my client's personalities and those of their family and guests.
So how do I do that?
Years ago, before I became a photographer I had difficulty looking people in the eye when I spoke to them. Maybe that was due to my previous job, stuck on a trading floor of a bank shouting down microphones all day with little personal contact, or maybe a lack of confidence, but I felt uncomfortable every time I talked to someone face to face. I had to address this issue as I could tell people thought there was something wrong with me. Why did I keep looking everywhere apart from at that when we were talking? As hard as it was I made concerted efforts to change and by the time I reached 30, I could talk to people and look at them in the eye.
When I became a wedding photographer I struggled to get in front of people, to get into their personal space and to take pictures of them. Up until they get married most peoples' interaction with a camera is someone shoving it in their face and asking them to smile. The result is normally appalling, resulting in hunched shoulders and double chins. This has changed somewhat in recent years with the invention of the selfie, but the reality is that a wedding photographer doesn't normally take every photograph from such a high angle.
Standing in the bride or grooms personal space is difficult, it does not come naturally and I would never suggest that it does, it takes a lot of hard work. Preparation for this starts way before the wedding day, in fact, it starts at the initial meeting. Finding common ground within the first few minutes makes an incredible difference to the chance of getting booked and my chances of getting closer on the day of the wedding. By the time it comes around I want all my clients to feel at complete ease with me being there for the whole day taking pictures.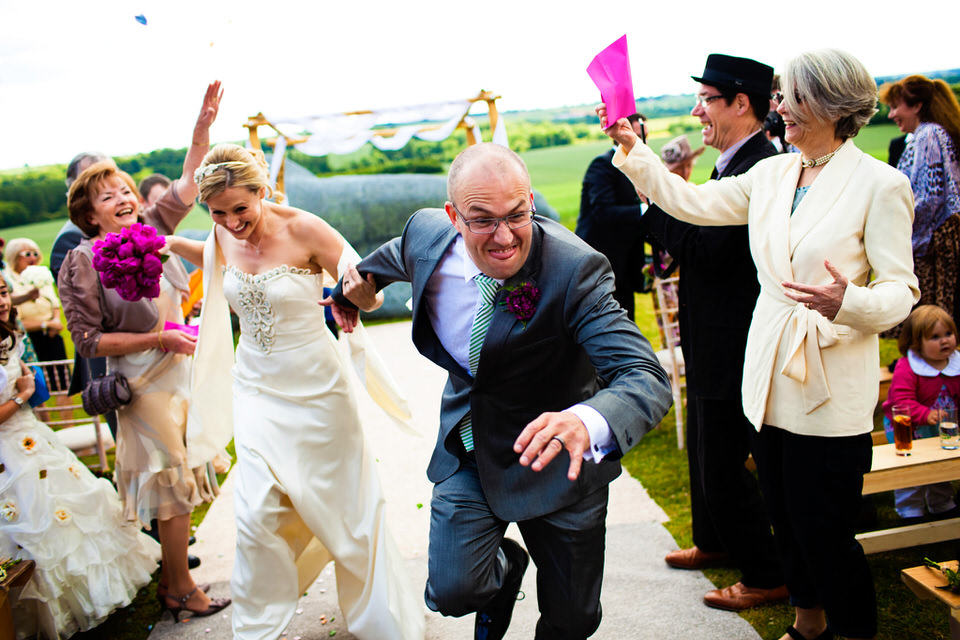 I explain during the initial meeting that sometimes I get close and that if they are uncomfortable with that and the thought of spending the whole day with me then they should hire someone else. The fact is that once most of my prospective clients see the images I shoot and I explain to them how I get them they can already see the difference. The same moment shot on a 70-200 or with a 35mm looks completely different. Yes, a 70-200mm will also fill the frame but there will also be a sense of disconnection compared to the wider 35mm which will show a more intimate moment. Even worse is an image shot from the side, where the photographer appears to be hiding and is certainly not taking advantage of his/her afforded privilege.
Resonating a sense of friendliness coupled with professionalism, always listening, always maneuvering slowly without any sudden movements, these are all tactics that I employ on the wedding day. I have always said that it's my personality more than the photography skills that allow me to get the pictures I get. Yes, I have an eye for a moment, but I would not be able to get those images if I was not in the correct place to start with and the couple felt comfortable with me being there. Standing in the corner of the room or at the back of the ceremony with a telephoto lens will not get you those WOW images. They will get you images, but images that look like the guests only better quality.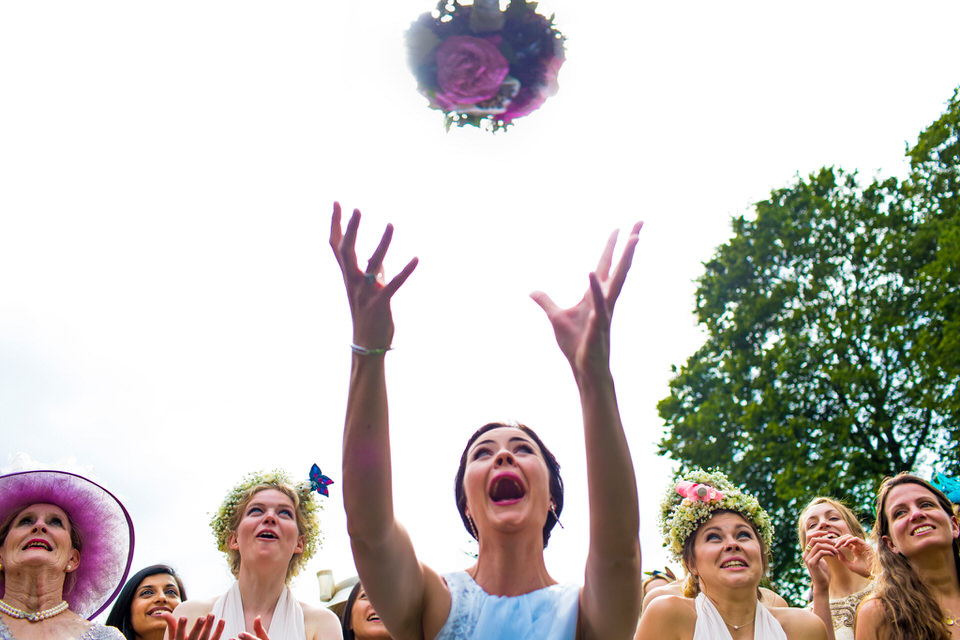 I use just 3 lenses all day, the 35mm is my go to lens, its the most used on the day and I would say it takes around 65% of the final collection. The 24mm I use mostly on the dance floor , when I am in close and need that extra width that the 24 affords me. I use an 85mm for portraits and for when I am banished to the back of the church by the ever understanding clergyman. Currently I am using 2 Sony A9's, a recent purchase when I switched from the ever reliable Nikon D750's. I am not very technically minded, I see the camera as a tool, my main reason for choosing the Sony A9 was due to its size and the overall difference in weight. After 15 years of photographing weddings its refreshing to have a camera set up that weighs so much less, my back certainly feels the difference.
The 35mm allows me to get close enough, I tried using the 24mm as my go-to lens but found that it was just too wide for me and for where I felt comfortable standing On the dance floor it's different, the floor is normally quite full with people and you have no choice but to get close and therefore I need the extra that the 24 offers, but for the rest of the wedding day the 35mm is the perfect lens for me. Using primes always helps too, as you get used to knowing what will be in your field of view, and so knowing where to position yourself becomes second nature.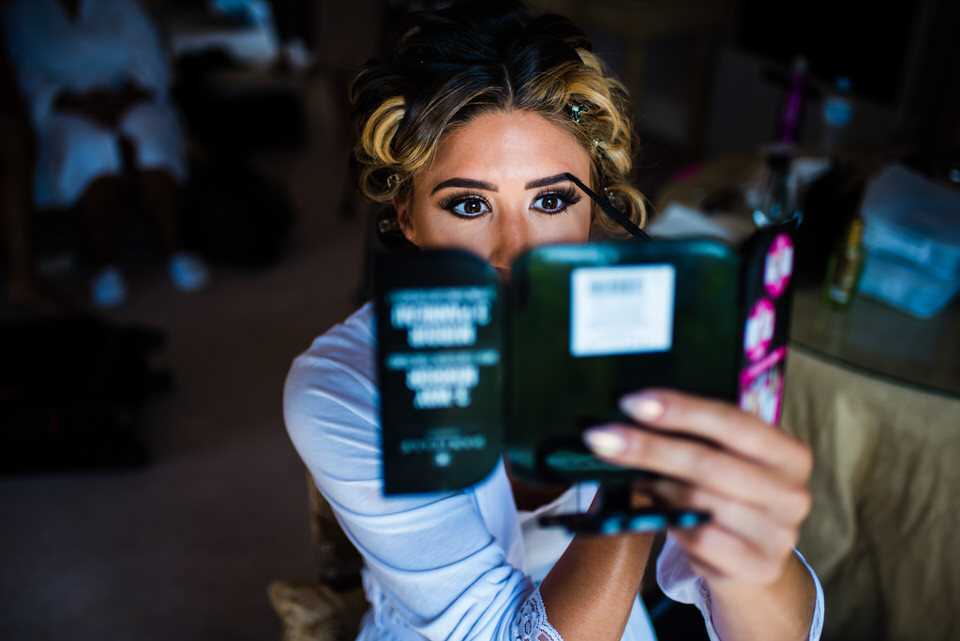 There is a reason why street photographers and war photographers tend to use wider lenses and that's to get close to their subjects, and in my view so should wedding photographers. We only get one shot at this so make the most of it, abandon your telephoto lenses and get in there with your 35mm, you won't regret it.
---
David Pullum is a wedding photographer with 15 year's experience, photographing weddings all of the UK and Europe. He has consistently been nominated as one of the Top 10 Wedding Photographers in the UK. David also mentors wedding photographers on a 1-2-1 basis, more details can be found here