Tips for Photographing Mountain Weddings and Engagement Sessions
It's time we talk about being a photographer in the mountains. Mountain weddings and adventurous engagement sessions are all the rage these days, am I right? I feel like every time I sit down to scroll my Instagram feed there's a couple hanging off a cliff, standing on a mountaintop, or standing knee-deep in a mountain lake. I get it. I've always been a mountain girl and can't get enough of it. I've branded myself as a mountain photographer simply so I can spend more time doing what I love for work in places that I love! That being said, I know that not all photographers have experience with mountain activities so I thought I'd put together a short list of basic tips when photographing couples in the mountains.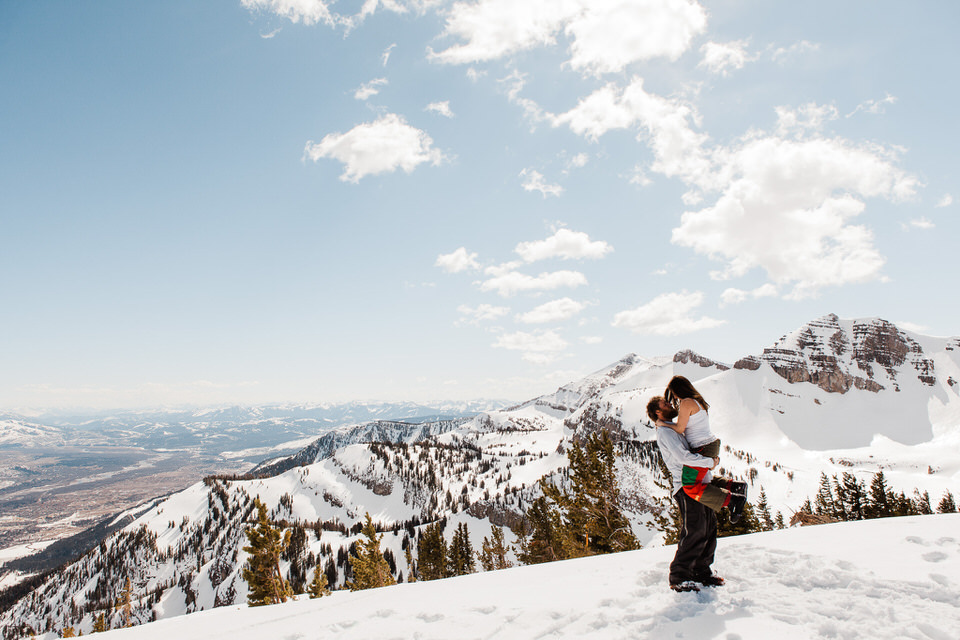 1. Bring proper footwear.
That's for both you AND your couple. If you plan on hiking, be sure to wear sturdy shoes that will get you over rocky and uneven terrain. I've photographed weddings in Jackson Hole and the Pacific Northwest for 8 years now and will never again make the mistake of wearing a cute pair of flats to a wedding at the top of a ski resort. My personal favorite for weddings is my pair of Frye riding boots. For engagement sessions or weddings that require hiking I choose my Keen hiking shoes and for snow sessions I have a knee-high pair of Sorrell snow boots. If it's a winter session, you may even need to rent snowshoes if you don't own a pair of your own. Should your bride-to-be want to wear heels, advise her to bring a comfortable pair of shoes for hiking between photo locations.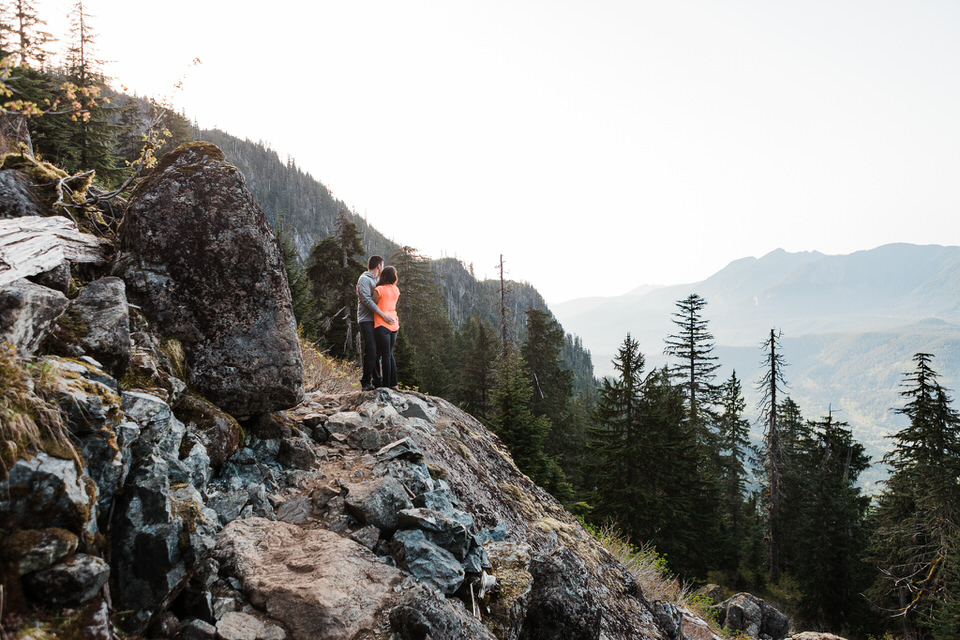 2. Research the location.
If it's a wedding venue, things will probably be pretty straight-forward. But if your couple has chosen a specific mountain destination for their engagement session or wedding, such as a trail with hiking, do a little research to find out conditions. Here in Washington, we use Washington Trails Association's website with up-to-date trip reports written by real hikers. They will let you know if there's still snow on the trail or if a road is closed. You'll also gather more information on what type of footwear to bring.
3. Pack sunscreen and bug spray, for both you and your client.
So many times I've seen brides' shoulders burn before the ceremony begins. And no, you do not want to photoshop out mosquito bites from every photo when post-processing. That is all.
4. Travel light.
It's easy to bring with tons of gear when you're photographing a wedding at a city venue, but an elopement in the mountains or session that requires a hike will force you to narrow down your equipment. I love my Dakine photo backpack for hiking and skiing sessions. I love that it not only holds my camera equipment but also my avalanche safety gear and I can strap my board to it when I go backcountry snowboarding with couples. I will also throw in my Holdfast double camera straps so that I can easily move around once we arrive at our destination and ditch the backpack. I bring my zoom lenses for hiking sessions so that I can have a wider range of coverage with less gear. I typically bring my 24-70mm and 70-200mm and throw in my 85mm if I have room because I just love the look of it.
5. Drink plenty of water.
Altitude sickness is a real thing, and dehydration is dangerous. Remaining healthy for your mountain wedding should be a top priority. Especially if you are traveling to a high-altitude location and live at sea level, you'll want to be sure to rest up well before shooting, eat potassium-rich foods, and drink plenty of H2O.
In addition to my tips, it would also be worthwhile to research some articles on basic hiking safety if you don't have experience with it. While there are a lot of precautions to take before photographing mountain weddings and engagement sessions, the end result is so worth it! Be prepared, stay safe, have fun, and create beautiful imagery!
---
Amy Galbraith is a wedding and portrait photographer for thrill-seeking and outdoor loving couples. She has been photographing weddings in the Pacific Northwest and Jackson Hole since 2010. When she's not shooting weddings, you can find her chasing powder on her snowboard, trekking deep into the mountains with a backpack full of camping gear, or paddling out into the surf of the rugged Washington coast with her husband and son.
Want to see more? Check out more of my work at the following links.
Website | Blog | Instagram | Facebook