Will Photographers Buy The New Huawei P9 and P9 Plus Smartphone with Leica Dual-Camera?
It's been a while since we've gotten excited over a phone. After all, the smartphones that have come out recently pretty much have the same specs, same storage size and the same cameras. Yes, you can argue about the look and feel of the phone, but that's really just superficial. However, all that is about to change with Huawei's P9 and P9 Plus, their two newest smartphones that boast dual lens rear camera.
You know the saying "go big or go home"? That's exactly what Huawei did when they co-engineered this phone with Leica Camera AG. Behind each lens is a 12-megapixel Sony sensor with 1.25µm-sized pixels. When looking at the back of the phone, the left lens shoots in monochrome, while the right lens captures color. This means one lens works to get the color right, while the other lens focuses on the details and structure of each photo you capture.
What I like a lot about this setup is that the phone can take true monochrome photos. I didn't even know I needed a monochrome camera. I guess it does make sense since Leica has dedicated monochrome cameras in its product line-up.

We all know that speed is important when it comes to image focusing and processing. Huawei's proprietary Hybrid Focus technology and the independent depth measurement chip embedded in the P9 allow users to capture images with unrivaled speed, accuracy and stability. In addition, it supports camera focusing based on three methodologies – laser, depth and contrast – and automatically selects the one that yields the best result.
The wide-aperture photography feature on the P9 allows users to experiment with innovative visual effects to create unique images and content. The P9 makes it easy to adjust the camera aperture to create bokeh and other depth-of-field effects, while keeping the main object in sharp focus.
The one statement that really sticks out in my head is Huawei's claim that the P9 can capture 90% more light than the Samsung Galaxy S7 and a tremendous 270% more than the iPhone 6S. That's a pretty bold statement, but without me playing with the phone – I am a bit skeptic. When I get my hands on a P9, then I'll do a full and in-depth review.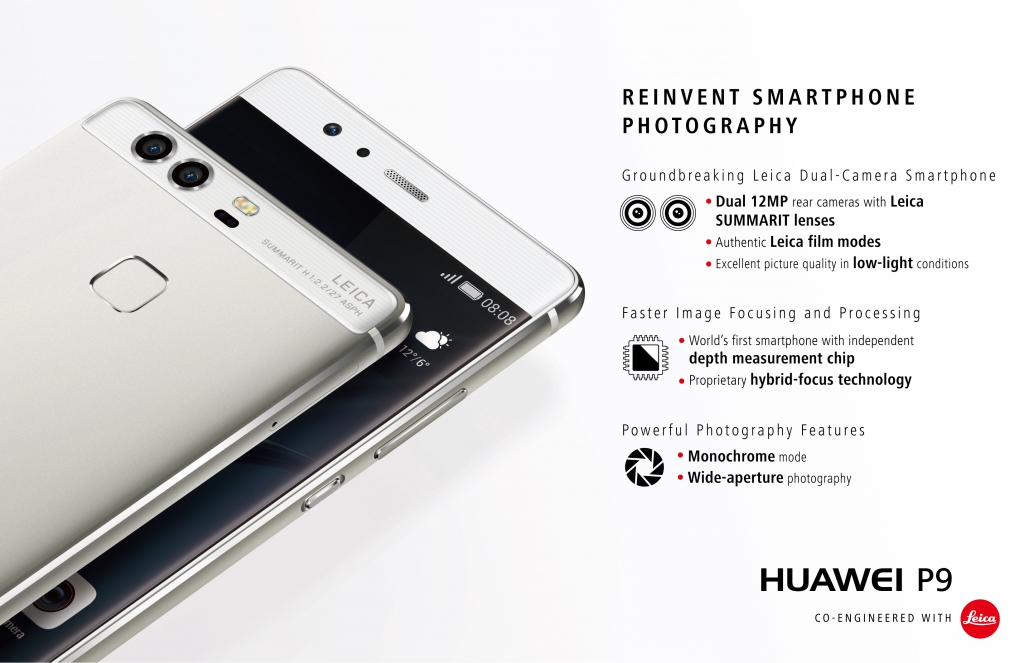 There's one feature that I really like and that is their new professional mode in the P9. It gives you full control over ISO, shutter speed, white balance, focus and exposure. RAW image output is supported too. This is a real plus for professional photographers.
So, that's the roundup of what's new on the new with the Huawei dual lens P9 and P9 Plus phones. With everything mentioned above, do you think you'll be making the switch? Let us know in the comments section below!