Is the Canon 7D Mark II Worth It?
Rumors about the Canon EOS 7D Mark II DSLR started just after Photokina 2012, but it finally made its debut at this year's show. Canon updated just about everything from the original EOS 7D. One of the first upgrades we noticed was the APS-C CMOS sensor on the 7D Mark II, which has been bumped up to contain 20.2MP of effective pixels compared to the 18.0MP of the 7D. Also, as an added bonus, it now comes with GPS.

When it comes to the sensor, the EOS 7D Mark II has a top native ISO of 16,000, and it can be expanded to ISO 51,200 with claimed low noise for both stills and video. The sensor works in tandem with Dual Digic 6 image processor, which help the camera up to 1090 JPEG shots in a single burst. The image processing also handles lens aberration, peripheral illumination and distortion correction in real time.
The shutter is ruggedized and designed for 200,000 cycles. Burst rate is up to 10fps, a major increase, while shutter lag is down to 55 milliseconds. An efficient shutter drive motor and vibration dampened mirror is also part of the package. The camera chassis is built of lightweight, rigid magnesium and is sealed against water and dust.
But, the big story here really is the autofocus system. It has a 65-point AF system that is incredibly customizable, similar to the high-end 1D X and 5D Mark III. That's more than the EOS-1DX, Canon's flagship full frame pro D-SLR. The EOS 7D Mark II also uses Canon's clever Dual Pixel CMOS AF technology to provide faster, more decisive autofocus in live view mode than you can get from regular contrast AF systems.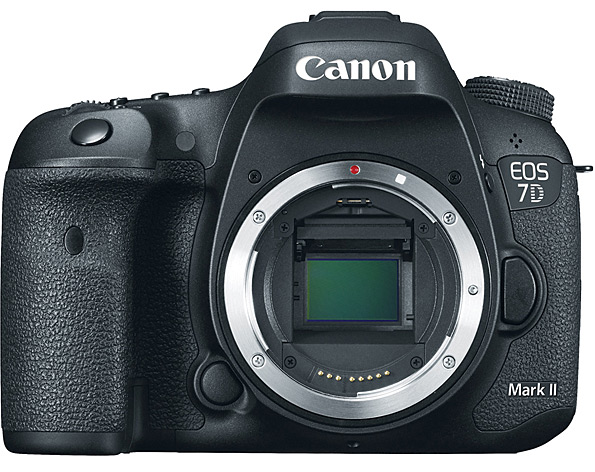 There are features built in the 7D Mark II that are video related, and quite impressive in their own right. Although the camera can't shoot 4K (which would've been a really nice touch), amateur Canon videographers will be able to capture Full HD at 60fps as either an MP4 or MOV, a headphone jack has been added for audio monitoring, and you can stream clean uncompressed footage through the HDMI port to an external recorder.
If you are looking for a mid-range DSLR, this is definitely the camera for you! With a continuous shooting speed of 10 frames per second, the 7D Mark II is the long-awaited successor to Canon's DSLR for sports and action photographers. Will you be buying one when it comes out in November? Let us know in the comments section below or on Twitter, Google+, or Facebook where we are always listening.