THE 'SAVE FOR WEB' BUTTON ADOBE SHOULD'VE MADE
We are happy to announce our latest product, the JPEGmini Photoshop® extension!
This extension is a welcome addition to our plug-in for Adobe® Lightroom®. Now when you export your photos directly from Photoshop or Lightroom, JPEGmini will automatically optimize them to the lowest file size possible without ever sacrificing quality. The resulting benefits will be faster uploading times, better UX and faster loading websites, thus improving Google search rank and customer satisfaction.
The idea of creating the Photoshop extension didn't come out of thin air; rather it came from the JPEGmini community. We are so thrilled to have such a vibrant and vocal community that let us know how they are getting real value from using JPEGmini and what future product features they would like to see.
The one feature that our users requested the most was the Photoshop extension. Photographers and creatives alike know that a hi-res photo saved in Photoshop can be a rather large file. Since photo quality is very important, they didn't want to have to compromise by using the "Save for Web" option. The save for web and export from Photoshop settings are part of a clunky and complicated process. We don't just keep the original hi-res quality; we also make it super simple and fast to export images straight out of Photoshop. We heard the community loud and clear. We rolled up our sleeves, went to work and voila!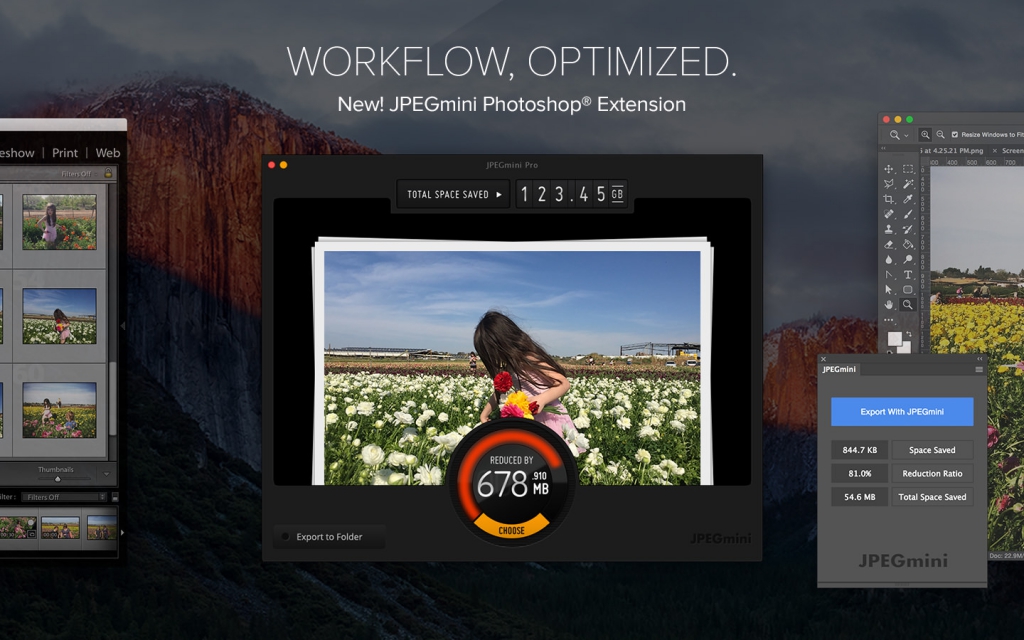 After working with both our Mac and Windows developers, we are very pleased with how the Photoshop Extension turned out. For those who use Photoshop, this will fit right into your workflow so you won't have any extra steps to take when exporting your image. It's as simple as clicking "Export With JPEGmini" when you are ready to export. Your exported image will remain hi-resolution, just with a much smaller file size.

We decided to send out the beta version to a few select individuals, and were very pleased with their responses.
"JPEGMini took another step out of what's already an easy process of creating small JPEG files (without losing quality) by building an extension right into Photoshop. Thank you!" Kenny Kim, Owner Kenny Kim Photography.
"JPEGmini and I have been good friends, but since they came out with their Photoshop extension we have become blood brothers." Gabor Richter, Owner of Gabor Richter Digital Artist.
Dustin Meyer took it one step further by creating a video of his review of the Photoshop Extension!

To get started with our latest product, please go here.
The initial response to our Photoshop extension was great. Now we want to hear from our community: How will you be using the Photoshop extension? Shoot us an email, Support@JPEGmini.com, and give us your feedback. We're waiting to hear from you!